Karaoke is the best way to enjoy get togethers with friends and family at parties, weddings, birthdays or any occasion.
Whether you're just starting out or a professional singer Kanto Karaoke is an easy program that lets you turn your Mac or PC into a Karaoke machine.
With Kanto you can play any of the most popular music file formats for karaoke. Like midi, kar, mp3-karaoke, cd+g, mp3, kfn (karafun) or video files for free from Youtube. Kanto will give you on-screen karaoke lyrics and show it all on another monitor or TV as well.
Kanto Karaoke is available for Windows and Mac, Try out our free demo versions:
After installing and starting the program you will see this initial screen:
The interface is very clear and intuitive because all the features are within reach!
How to Organize a Karaoke Party with Kanto Karaoke
If you want to organize a real karaoke contest, you can say goodbye to the leaflet on which to note the name of the singer of the song etc… Now with Kanto Karaoke everything is done in a automatic and simple way.
Just click the SINGER PLAYLIST button (bottom right) to open the screen where you can start listing the singers and the songs to sing
Clicking on ADD button  you can add a new "singer" entering its name, song (selecting it from your PC or playlists already created within the program), and setting the tone of the song itself (leaving zero remains original).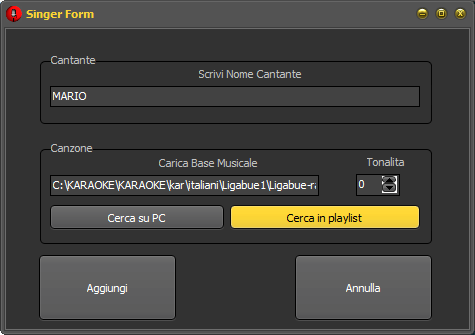 When done, you can double-click on the first line (first singer) to start playing the song. The dual monitor will also be activated (to be placed on a second screen, TV or projector) and before each song is played, an announcement window will indicate the title of the song, the name of the singer and the three "next singers". In the figure below an example of this window (which is customizable):
This announcement window is displayed by default for 10 seconds before that song starts. However, you can change this duration by clicking on "Settings" and changing the "Intro Message Length" value.
You can also change the size of the text, set the color, and enable / disable the opening of the accouncement window.
Below you can activate also the autoplay for "Singer Rotation": at the end of the first song, the program shows who is the next singer and automatically starts the second song, and so on….
What are you waiting for? Try to organize a karaoke Party with Karaoke Karaoke and you will see how easy it is. If you do not have any karaoke song, please read this article and you will know the best way to download karaoke songs for free on your PC.